Barbados Travel Info
Don't miss our Free e-Magazine!
Barbados Travel Info for your next trip!
We all know the saying, "you get what you pay for!". So, what does this mean for something that's totally free?
Turns out, sometimes you actually get a lot more than you pay for. Case in point:
The free

Travel Secrets

online Magazine!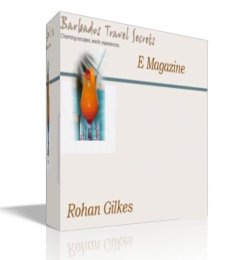 You'll find the latest Barbados Travel Info and
Travel Alerts
!
With your hectic schedule it would be impossible to stay informed of all that's going on in Barbados as you plan your trip.
The Travel Secrets newsletter will help. Taxi drivers going on strike? We will let you know. Construction along the major hotel strips? The info comes straight to your inbox.
Sign up for the free newsletter. If you enjoy the free information on the site, you're sure to enjoy the newsletter.
You can cancel at any time. Newsletters are sent about once a month.
It's Quick, Easy, and Free - Sign up Here!
Travel Secrets Monthly Newsletter
Important:
You will need to confirm your subscription. If you don't get an auto email in 4 minutes, it's probably in your junk box. Check there and let your email service know that we're not spam.
---
Here's some cool
BONUS
stuff we're working on for the magazine.
· Monthly Updates on travel deals
· Free giveaways (cd's, travel toys, etc.)
· Tiny ebooks on specific topics (grocery shopping, beach-bars, top 10 things, and more Barbados travel info)
· Celebrity interviews (Exclusive to newsletter readers)
· Highlights of new topics we've covered on the site
Plus we offer a full
Money Back
guarantee! :-) Sign up Now.
Travel Secrets Monthly Newsletter
---
Return to the top of
Barbados Travel Info
Return Home to
Barbados Travel Secrets