US Embassy Barbados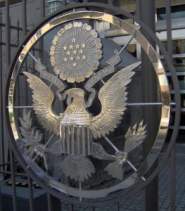 The US Embassy Barbados is a great resource if you're visiting from the United States. Where are they located? How do you get there? From a lost passport to whatever else may come up.....
Here's what you need to know:
If you plan to move to Barbados or stay for more than a few months
the U.S Gov't encourages Americans to register at the Embassy. You may also register online at http://travelregistration.state.gov/ibrs.
How to get to the US Embassy Barbados
The U.S Embassy, Barbados recently moved from Bridgetown to a new location in Wildey. It's a slightly less convenient location than the previous location in the
Capital of Barbados
,
but it's still easy enough to get there.
It's a good idea to know how to reach them in the event of
a lost passport
or other mishap. Here's the address:
American Embassy
Wildey Business Park
Wildey
St. Michael BB 14006
Barbados, W.I.
To get there you could take a taxi or a minivan from the River Minibus Stand in Bridgetown. If you have a car
(
click for tips for driving in Barbados
)
you can reach there by taking the ABC highway towards the Wildey roundabout.
Consular Section Email (Visa inquiries and American Citizen Services): consularbridge2@state.gov
US Embassy Bridgetown Barbados –new guidelines for Caribbean nationals
In the past the Embassy provided same-day service for applicants from other Caribbean islands. You could fly to Barbados, apply for a visa, and if approved get the visa the same day. With recent changes, successful applicants now must return home with their passport and mail the passport back in the mail. Just be aware of these new changes.
US Embassy in Barbados Hours of operations
The Embassy is open from 8:00 a.m. to 4:30 p.m. Monday through Friday except on local and U.S. holidays.
Individuals applying in person for a visitor's visas (non-immigrant visas) at the Consular Section must have a scheduled appointment.
Telephone Numbers:
Main switchboard:
(246) 436-4950
Consular Section (Questions):
(246) 431-0225
Visa Appointment Hotline (Only)
(246) 228-6340
Don't forget:
Try to go to the US Embassy, Barbados as early as you can. Wait times can be long even with an appointment.
Shoot us an email
if you have any nagging questions.
---
Top of
US Embassy Barbados
Home to
Barbados Travel Secrets