Barbados Snorkeling Adventure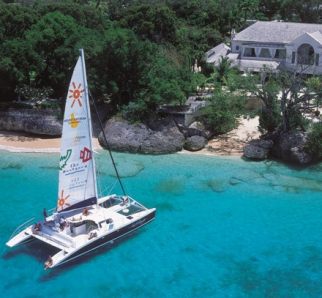 Want to guarantee you will never forget your Barbados
snorkeling experience?
Challenge yourself and try something you've never done before.
I did just that and ended up on a Catamaran tour snorkeling with turtles! Why was this a challenge for me?
I can barely swim. A snorkeling trip would be right up to the edge of my comfort zone! So of course, I jumped right in!

Barbados Catamaran tour
With several snorkeling tours to choose from I first set out to narrow down the field.



I asked around a bit and placed some calls to Edgewater Inn where I used to work. (A good front desk clerk knows all the best spots. They're the first to get feedback from guests)

One name kept coming up: Cool Runnings Catamaran.

Let's check them out together.



Snorkeling in Barbados
First impressions
: They came across as a truly professional outfit. You could tell everyone was highly trained!
Plus it wasn't super packed with people like I expected. Turns out Cool Runnings only sails at half capacity. When the dancing starts you'll have plenty of room ;)
You have to love their crew!!! Friendly, outgoing, and fun. They were great with the children on board as well. They splashed around in the water with them and kept everyone entertained.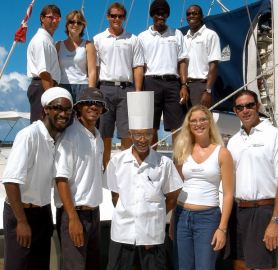 Cool Runnings Crew

More importantly for me, they took the time to help anyone who was not confident swimming or snorkeling.
I had nothing to worry about!
Also turns out you can learn to snorkel pretty quickly if you have someone to show you properly!
I can't praise their crew enough. They came around and chatted with everyone, cracked jokes, and kept the cruise lively and fun.
Our first snorkeling stop.......
Snorkeling with the sea turtles at Paynes Bay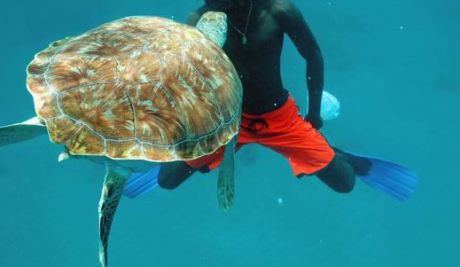 Guy feeding turtle by hand
I would have been happy to see just one or two turtles. We spotted several! The turtles are accustomed to people and are not shy. It was great to be so close to them. Paynes Bay is an ideal spot for Barbados snorkeling: crystal clear water!
Next stop was Folkstone Park.
Snorkeling over a shipwreck at Folkstone
Snorkeling with tropical fish in Barbados
You'll find tropical fish in an array of colors, shapes, and sizes. It's not a huge shipwreck, but large enough to attract a variety of marine life.
Bring an underwater camera!
Then lunch. They anchor in a quiet bay and serve a wonderful buffet on board. The food will surprise you. Their chef used to be a cook on a cruise ship.
Tasty Buffet served with white wine

Scroll on for a mini photo-gallery
Getting the life vests ready
View from the Catamaran in Barbados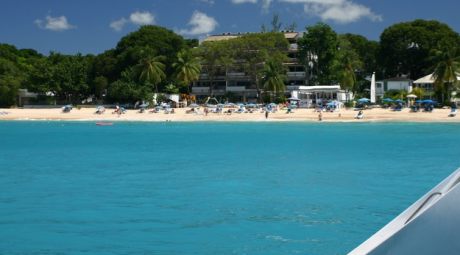 Barbados shoreline

It's a great way to see Barbados from a unique angle. It's a cool tourist experience, but the interaction with marine life makes it different from the standard booze cruise.
Heading to Folkstone Park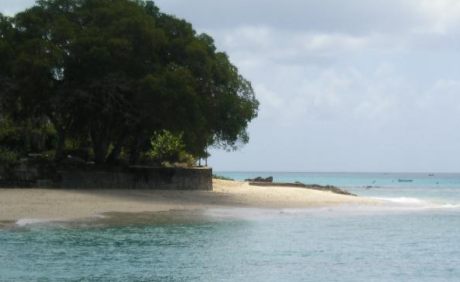 St. James

The Catamaran docks close enough to the shore that you could easily swim to shore and relax for a few moments.
View of the Catamaran, Barbados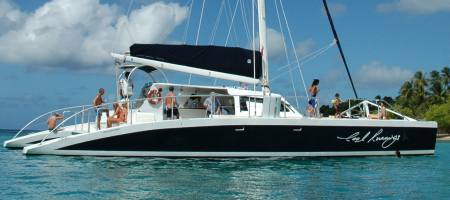 Cool Runnings Catamaran
The crew struck the perfect balance between attention to safety and all out crazy fun. It was a blast!
Turquoise water in the Barbados Sea
An amazing day!

The folks that make it happen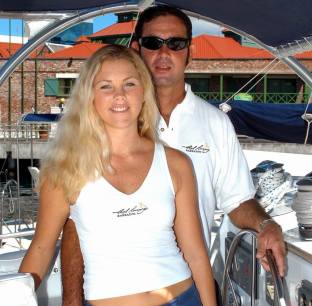 Cool Runnings crew
Captain Robert and his wife Annika run a great outfit.
Small groups and a fun crew make this adventure a must.
The "eco-marine" slant made the trip even more unique.
A MUST DO EXPERIENCE!
Barbados Sailing details
5 Hour Snorkel Lunch Cruise Duration:
9:30 am to 2:30 pm daily.
Sunset Cruise:
more laid back
(Wednesdays only)
3:00pm to 7:00pm
Open bar:
Rum, rum punch, beer, vodka, gin, juice, soft drinks & water. White wine served with lunch/dinner.
Bajan Buffet:
Full buffet meal served on both cruises.
Transportation:
To and from your hotel. (See drinks above) :-)
Snorkeling Gear:
They provide everything.

Wow Factor:
There were a number of people on our trip that were repeat visitors or had been referred by friends- the best signs of a quality experience. An amazing adventure that stimulates all 5 senses. Enjoy your Barbados snorkeling adventure!
I have to thank everyone that answered my emails and calls and recommended this Barbados snorkeling cruise.
Even if you're a little wary of the sea (like I am) Captain Robert and the guys will take great care of you and show you the best spots.
Private charters are available at special rates as well. Simply drop them an email below.....
*** WAIT! ARE YOU COMING TO BARBADOS ON A CRUISE LINER? COOL RUNNINGS NO LONGER ACCEPTS BOOKINGS FROM CRUISE LINER PASSENGERS***

Top of
Barbados snorkeling
Home to
Barbados Travel Secrets