Barbados Shore Excursions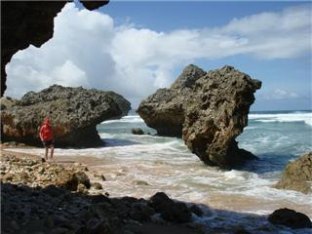 Looking for a must-do Barbados experience?
Try not to miss out on a Barbados shore excursion while you're here!
That would be like going to Paris and not visiting the Eiffel Tower or mangling the french language!

It just wouldn't be right :-)

Discover sweet hidden locations, hang out with the locals, and take in the sights that would be difficult to find by yourself in a rental car (some spots even the locals don't know about!)


Tours in Barbados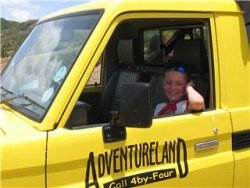 Hanging out in the 4x4
There are several Barbados shore excursions on the island. Let's take a peek at AdventureLand.
Picture this:
You're in an open-back 4x4 being driven into the hills, through the gullys, and pastures of Barbados. The ride is bumpy and soooo much fun!
The tour guides are fantastic and are sharing all the little secrets and tidbits about Barbados history and local characters. The rum punch is flowing and you're having a blast!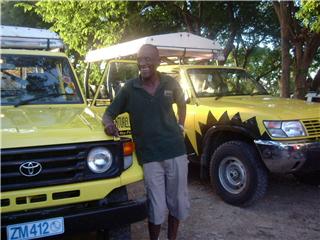 Fun crew- powerful and safe 4x4's
Every few moments the driver stops so you can take pictures.
What a lovely day!
Then suddenly it begins to RAIN! Little drizzles at first, but then it really starts to come down.
Ha! Well it's over in 5 minutes and just adds to the fun of the day. Plus you're the adventurous type anyhow, that's why you're in the back of a 4x4 as we speak! (Click for tips on the
Barbados weather forecast
)
If your guide turns out to be Cassius Clay, you're in for even more of a treat.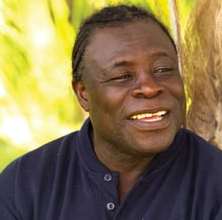 CASSIUS CLAY
One of the funniest guys you'll meet
He's a former boxing champion, fire-eater, entertainer, and all around great guy.
He'll have you dying with his stories! Be sure to ask him about his theory on why hurricanes usually miss the island. (I promised not to tell!)
Even if you have another tour guide, you will most likely meet up with Cassius for a 10 minute walk through Welchman Hall Gully. His knowledge of the flora of the area is nothing short of amazing! Welchman Hall Gully is one of those magical spots in Barbados that shouldn't be missed.
(
Update:
Presently, Welchman Hall is not being used as the starting point on the tour. Adventureland is working earnestly with the new operators of Welchman Hall to have it re-added)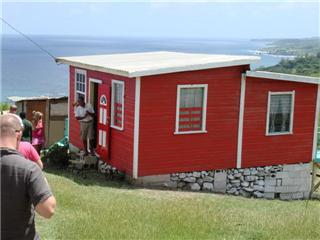 Traditional Bajan chattel house

Then you're off to Chalky Mount pottery for a brief stay to see pots being made. A great opportunity to see local artists at work.
Next stop, a memorable Bajan chattel house. This is your opportunity to get away from the hustle and bustle of the tourist strip and
see real Bajan living.
Then off to
Bathsheba- know for its amazing views. You'll explore hidden bays and some of the best kept secrets.
Bathsheba, Barbados Tour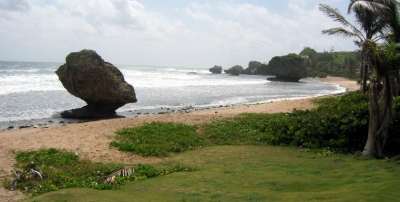 Bathsheba
By now its time for lunch. Right across the street from Bathsheba.
Drinks
: All you want! Anything you want!
Lunch:
A buffet of beef stew, chicken, fish, macaroni pie, rice, salad, and rum cake.
Scroll on for a mini photo-gallery
St. John's Church, Barbados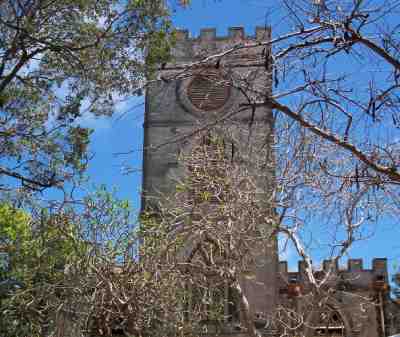 Beautiful architecture
Then to Gun Hill Signal Station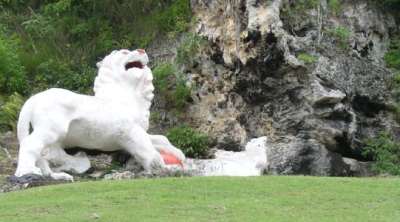 Lion at Gun Hill
View to Bridgetown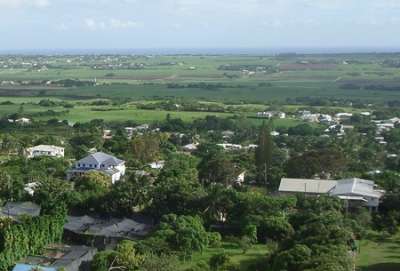 Bridgetown (Click for a tour of the capital of Barbados)

I enjoy the freedom of
rental cars
and exploring on my own when I travel. But there are just some places you would never be able to go in a car.
Path to East Coast Road

An all around brilliant day!

The folks that make it happen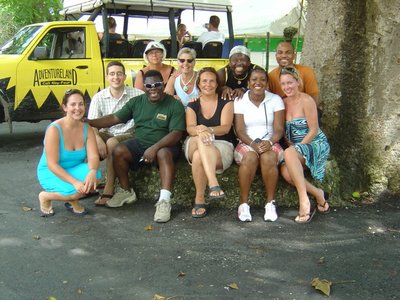 Cassius Clay, other tour guides, and happy visitors.
The end of a magical day in Barbados! I highly recommend this tour.
Definitely one of the best ways to see the country.
By 5:00 pm you're back to your hotel with a million stories to tell.
Grab a camera! Dress comfortably! Enjoy!
You're going to enjoy your tour with Adventureland. Email Tammy directly and let her know what you would like to do. I know she'll take good care of you.
Top of
Barbados Shore Excursions
Home to
Barbados Travel Secrets