Grantley Adams Airport Barbados
Travel easy!






Things just got easier at Grantley Adams Airport. Barbados recently spent close to $200 M in renovations and my oh my…..
Let's just say, you're going to be pleasantly surprised!
First there's the new air-conditioned immigration area with a much better queuing system. (If you've been to other Caribbean airports, you probably just smiled at the thought of air-conditioning!)
Barbados international airport has always been one of the best in the Caribbean and was voted the Caribbean's Leading Airport at the World Travel Awards.
I'm not usually a fan of Travel Awards but I must say, well-deserved!
Airport in Barbados
Nice new updates to the Courtyard
(BTW, Grantley Adams is the official airport name. Of Barbados two airports, this is the only one with international flights)
The new air conditioned baggage claim area is a breath of fresh air. You just pick up your bags on the belts like at large international airports and you're golden.
This is no large airport though. There's only one terminal…..couldn't be easier!
Air Conditioned Baggage Claim area
The new immigration and security screening point allows four wide-bodied jet loads of passengers to pass through without much delay.
Grab a taxi at the outdoor meeting point after you clear customs. Stick to your guns and insist on a licensed cab-they advertise their rates to all the major spots on the island.
The departure area-new tent design roof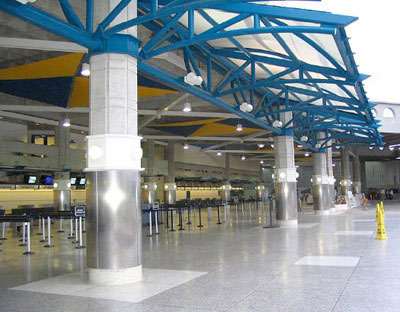 Extended check-in areas run the length of half the departure area and into the terminal itself. Sweet! Okay, who gets so excited about airports?
As a kid, I used to beg my parents to drive me to the airport to watch planes taking off. I could watch them for hours on end. I still find something relaxing about airports. I know..strange!
Oh, you're going to love the new tent-design roof. Okay, maybe you wont' notice it as much as I did…..but do let me know what you think about the great outdoorsy feel.
Downside:

There probably still isn't enough seating before going through security. Luckily, the departure lounge seats 800 people…all wishing they had one more day in paradise.
On the bright side, what better time to start planning your return trip!
Grantley Adams Airport, Barbados…..Enjoy a wonderful island!
Rohan


P.S. What questions have I not answered for you? Drop me a line.




Top of Grantley Adams Airport Barbados
Home to Barbados Travel Secrets