Apartments in Barbados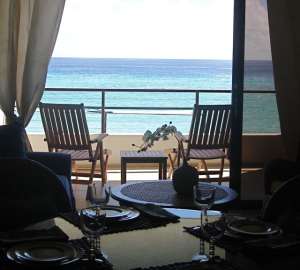 Apartments in Barbados are the way go!
As I've mentioned before, there are a host of reasons to stay at St. Lawrence Gap Apartments.
With bedrooms, a living room, and kitchen, you can truly turn your Barbados travel into a real home away from home experience.
If you're like me, before you go on vacation you want everything to be perfect!
You play everything out in your mind before you even get there. You think about your flight. Picking up your bags. The wind blowing through your hair as you listen to the first bit of island music on the ride from the airport.
Then as you grab your bags and head to where you're going to stay, you probably say to yourself, "I hope this place is nice!"
Well, if you end up staying at one of Barbara's
Apartments in Barbados
(Apt. # 3), this is what you'll see as you open the door.
Living room of Apartment # 3

Here's what you'll see as you walk to the bedroom to get unpacked.
Lovely Master Bedroom


View to the private terrace and beach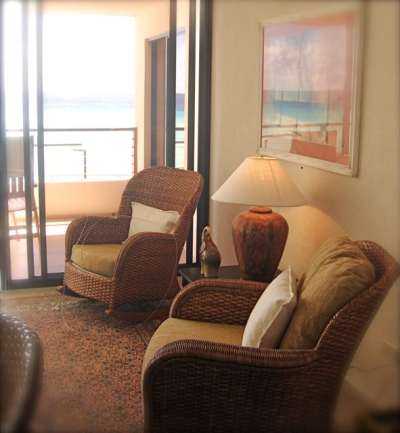 .
Other view to the Terrace. Spectacular isn't it?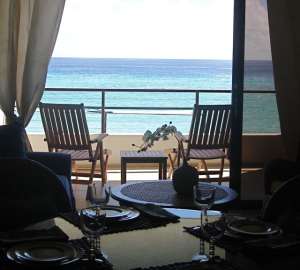 You're going to love the sandy beach a few steps away from the apartment.

Barbara is an energetic and friendly lady and a welcomed break from the large impersonal hotel chains.

If you have any questions before you get there, she will share her tips.

These apartments are everything that apartments in Barbados are meant to be. The views are lovely, and it will feel like you have the cool south coast beaches all to yourself.
Villa Rental Details
Complimentary: Free fishing rods, Reels, and coolers, wireless internet, DVD player, washer/dryer, full A.C.

Price includes: Housekeeper, Linens, Kitchen utensils and equipment, and its fully air-conditioned: You'll thank me later :-)
High Season: $300 U.S per night
Low Season $200 U.S per night
Enquire about long term rentals of these apartments in Barbados.
To contact Barbara directly, just fill out the form below

(I try to avoid listing emails on the site-makes it too easy for spammers)

Return to the top of this apartments in Barbados page

Return to the main Beach apartments Barbados page

Home to Barbados Travel Secrets




---