Barbados Condo Rental
Take a look at this Barbados condo rental.
You know that lovely feeling you get when you take that first step into your hotel or villa? Well multiply that by 10.
Of course you don't want your Barbados condo rental to be a total surprise. Usually, that's bad.
Plus, I'll try to take most of the surprise out of the equation by giving you a good idea what these condo rentals in Barbados look like.
You will see right away that the main room is sensational.
Don't take my word for it.
Look!
Barbados Condo Rental - Apt # 10
Charmingly designed living room

The bedroom is very inviting. It's one of those places that makes you feel at home even though you're miles away.
Try getting that feeling from a hotel room!
Anyhow, off to the bedroom. You're greeted by an absolutely luxurious, modern, and sensational master bedroom...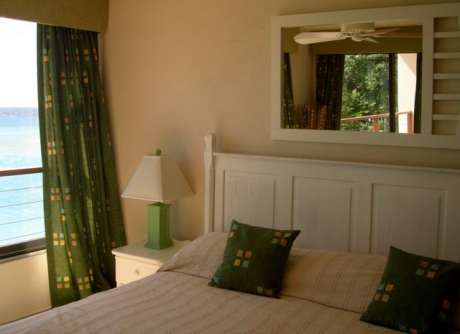 Master bedroom: Modern, yet cozily designed

You will see that no expenses has been spared to make this
Barbados condo rental
comfy and inviting. You'll find comfy couches, flat screen tvs, complimentary DVD players...and the chance to listen to soothing waves outside your window at any time.
Air Conditioning: In both bedrooms. If you are like me and are accustomed to the tropical weather, you can simply open the windows and let the cool sea breeze in.
On the other hand, if you like it nice and cool, crank that a/c up and relax.
View out to the jetty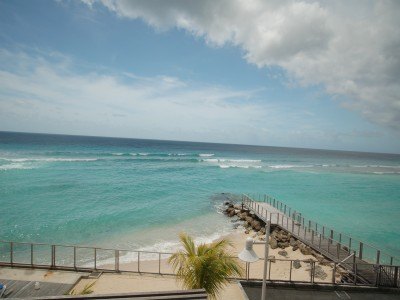 All of the St. Lawrence Gap apartments have full kitchens with top-of-the-line European appliances that complete the full home-away-from-home look and feel. (Microwave, oven, stove, dishwasher, fridge, freezer)
Barbara Hobson runs a charming place to stay in Barbados.
She's an energetic and friendly lady and a welcomed break from the large impersonal hotel chains.
If you have any questions before you get there, she will share her tips.
What more could you ask for...

Sweet location

luxurious living room, dinining room, kitchen, and bedrooms

the most amazing views

The best sleeps you'll ever have
Villa Rental Details
Price: $200 US per night (Low season) and $300 US per night (High Season)

Complimentary: Free fishing rods, Reels, and coolers, wireless internet.


Price includes: Housekeeper, Linens, Kitchen utensils and equipment, washer/dryerand a/c in both bedrooms.

Wow Factor: Patio access from both bedrooms makes this a truly amazing barbados condo rental.
To contact Barbara directly, just fill out the form below

(I try to avoid listing emails on the site-makes it too easy for spammers)


Return to the top of this Barbados Condo Rental page
Return to the main beach apartments Barbados page
Return home to Barbados Travel Secrets


---