Barbados Condo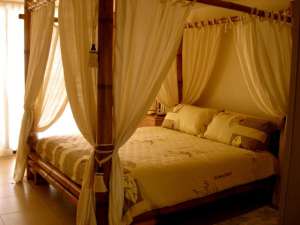 Suppose you were to offer me a Barbados Condo rental in the middle of St. Lawrence Gap. Miles of white sandy beaches lay just across the street.
I would be in the midst of some of the best restaurants Barbados had to offer.
Locals hang out here. Tourists hang out here. Spontaneous and interesting conversations or the order of the day.
It would be Barbados condo rental heaven!
"Sounds great! But ahem, how much is this going to cost me?"
Luckily Barbara Hobson saves the day with this beautiful Barbados Condo that I like to call King's Castle (Apartment #1)
Let's take a quick walk-through together: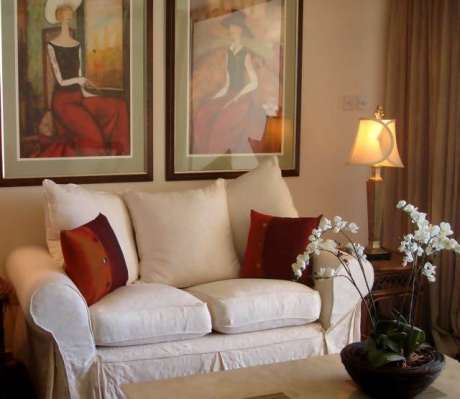 I love this sofa!
The second bedroom: Perfect for children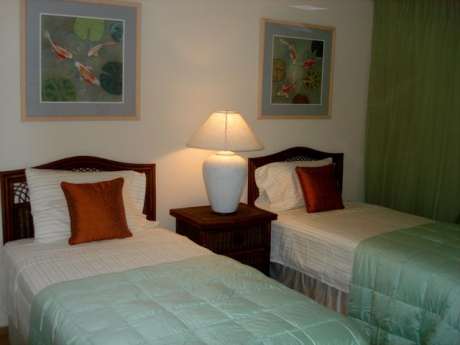 Twin Beds in the second bedroom
The master bedroom boasts a lovely and comfortable bed. Words do not justice, take a look!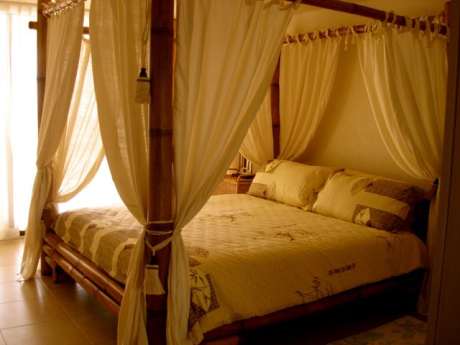 Barbados condo

The views from these condos in Barbados are simply amazing. Just try not to lounge there too long, remember to get out and see the island :-)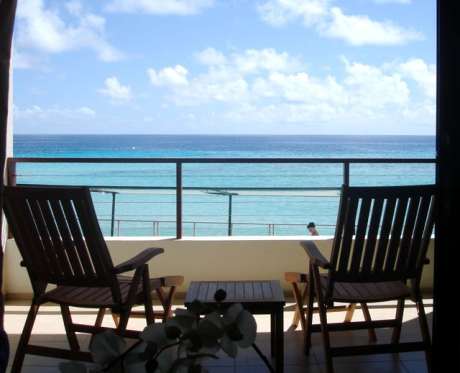 Barbados Condo- view from the private terrace

The living room design is a cool mixture of modern furniture with a touch of rustic design I so want that coffee table.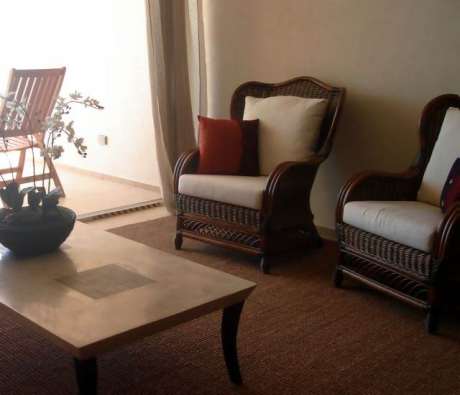 Living Room

The pool and view to the beach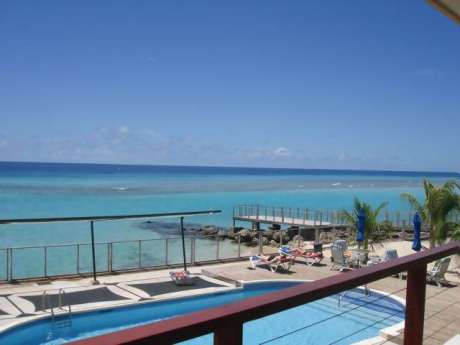 Sunbathing anyone?

So the price? When Barbara told me that the rate was "very reasonable" she was serious.

It's $300 per night and that can be for up to four people. In the low season the price drops to $200 per night.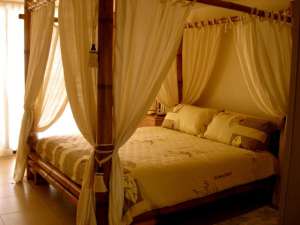 Barbara Hobson runs a charming place to stay in Barbados.
She's an energetic and friendly lady and a welcomed break from the large impersonal hotel chains.
If you have any questions before you get there, she will share her tips.
Villa Rental Details
Complimentary: Free fishing rods, Reels, and coolers, wireless internet, DVD player, washer/dryer.

Price includes: Housekeeper, Linens, Kitchen utensils and equipment.
To contact Barbara directly, just fill out the form below

(I try to avoid listing emails on the site-makes it too easy for spammers)

Return to the top of this Barbados Condo page
Return to the main beach apartments Barbados page
Home to Barbados Travel Secrets


---