Barbados Port
The Barbados port near to Carlisle Bay is the port of entry for cruise ships. Located a mile from the center of Bridgetown, the port has been awarded "Port of the Year Award" four times and is recognized as one of the best run ports in the Caribbean.
The Port of Bridgetown comprises five berths totaling 1,531 meters in length and provides comfortable docking for hundreds of cruise ships per year.
Cruise Ship docked in the distance
Technical Details for the Bridgetown Port
Maintenance dredging of the Bridgetown Port was executed and completed in May 2002 and now accepts vessels up to 10.0m in draught.
Dimensions of dredged depth of Harbour basins are:-
Inner Basin - 11.0m
Turning Circle - 12.5m
Entrance Channel - 13.5m
• The breakwater is 522 meters long.
• The Cross Berth is 121 meters in length.
• Berths No 2 and No 3 are continuous, with a total length of 366 meters.
• Berth no. 4 is a 184 meter long container quay.
• A dolphin adds a further 31 meters to Berth 4.
• A 156 meter long quay, dredged to 6.8 meters is reserved for inter-island vessels.
• A 307 metre sugar berth and other bulk facilities with 183 meters of berthing space.
• The Esso Jetty, located outside the breakwater, can accommodate tankers up to 244 meters in length and 11.6 meters draught.
• The Arawak Cement Plant can accommodate ships up to 121 meters in length and 9.0 meters draught.
Outside of the Bridgetown Port, there are three oil berths – Needham's Point, Oistins and Spring Garden.
Quarantine anchorage and general anchorage are available off Carlisle Bay. An explosives anchorage is located north of the Port. There are five separate anchorage positions. Refer to Admiralty Chart 502.
View of the containers and cranes at the Port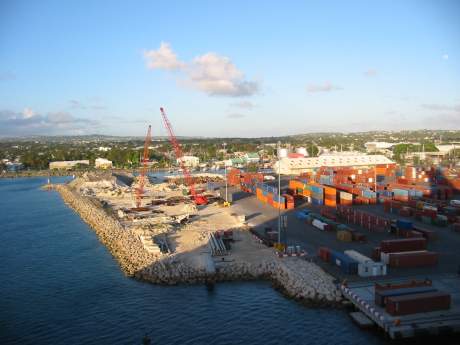 PORT CALL
VHF 12/6. Channels are open 24 hours. Port call sign 8PB (Eight Papa Brava).
Ships encounter little variation (approximately 0.6 meter) between low and high tides.
TOWAGE:
Tugs are required for all vessels over 1,000 nrt. The Barbados Port Authority owns and operates two tugs.
The prevailing wind is easterly
The container terminal and marine services are available 24 hours a day.
Return to the main
Barbados Cruises
Page.
Return to the top of this
Barbados Port page
.
Return Home to Barbados
Travel Secrets
.