Barbados Cruise
Your look at the Bridgetown Terminal
A Barbados Cruise stop will be one of the most enjoyable ones on your cruise schedule.
Lovely beaches, great weather, laid-back and friendly people...and all the sights and scenes
that makes Barbados a favorite location. The Bridgetown cruise terminal is your first stop, so let's take a look.
When your ship cruises into the
Barbados Port
, you will be anticipating your Catamaran cruise or Barbados shore excursion. You first have to take a walk through the terminal where you're going to find shops packed with...well, an entire host of things. From the standard Tshirts and souvenirs to liquor and fine china.
Barbados Cruise Terminal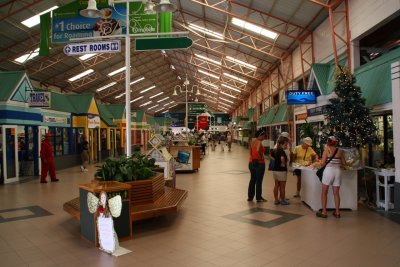 Barbados Duty Free Shopping

Duties in Barbados are notoriously high. You'll get a good idea of what we mean when you see the difference between duty free merchandise and local merchandise in Barbados. So take advantage of duty-free shopping on your cruise holiday in Barbados.
Cruise Tourism in Barbados
Outside the Cruise Terminal-Departure Gates

If you've pre-booked your
Barbados shore excursion
or
Catamaran Tour
, the numbered departure gates help to get your tours going.
There's no surprise Barbados is one of the favorite stops on cruise tours.
(Click for a quick read on cruises to Barbados with tips on choosing your cruise)
.
Before you even leave the port you will find hand crafted objects and some genuine Barbadian home-made cakes and sweets.
More Barbados Shopping at the terminal
The outdoor area with locally made products

You will find hand-crafted products from local artists and designers as you walk outside the terminal. Welcome to Barbados! You're going to have a blast.
Chattel House Shopping at Pelican Village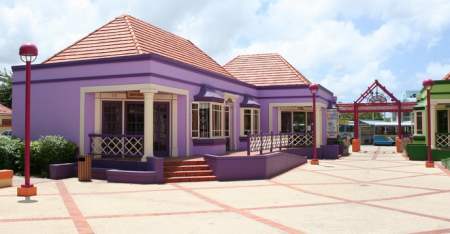 Chattel House Shopping outside the Terminal

If you plan to walk to the city, a few steps outside the Terminal you will find a charming set of chattel houses that are run by a group of artisans. It's a great spot to find hand-made clothing and outdoor shows. It's about a 5 minute walk from the terminal and is on the way to Bridgetown..
Turn right as you leave the Terminal. You certainly can't miss it.
---
Like Barbados Travel Secrets?
Click for our free newsletter now
. It will let you know about our new updates.
Return to the main
Barbados Cruises
page.
Top of this
Barbados Cruise Page

Home to
Barbados Travel Secrets